Ready to Build Credit So You Can Build Wealth?
Discover the step by step tips, tricks, and tools to increase your credit score quickly and effectively. Get clear on what it takes to maintain & sustain wealthy credit habits so that you can fund the life of your dreams.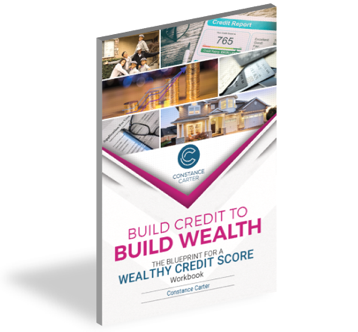 Join today and for a limited time only, get the program guide for FREE!
Our students have found tremendous value from using this action packed workbook along side the program.
Check out our 2 payment options below:
Here's what our clients are saying:

"My credit score was at a 412 due to too many student loans. I was in a panic not sure what to do or which way to turn I reached out to Constance for advice and direction and taking her program gave me the tools that I needed not only to have my first credit card to help build my credit but also to start having my score rise. I am still working on Rising my credit score but at of today I am at a 600 thank you so much Constance for your guidance and your program"
~ T. Johnson
"My husband and I went to a credit party given by one of our relatives. Constance was able to explain how credit works and why it's important to have good credit. Shortly after the credit party my husband and I invited Constance over to our home to a more private meeting to go over our credit and we came up with a game plan to work on our credit. Constance gave my husband and I homework to do in order to fix our credit. We purchased her book "Keeping Score" and took her program and it really was the blueprint to better credit. Once our credit scores went up we contacted Constance to tell her know we were ready to purchase another home. It took us about 2 months to look for a home and purchase our home."
~ L. Carter
"I have known Constance over 15 years and through the years I have bought and sold several properties with her help and expertise. This last time, and thus far my favorite house my husband and I were coming out in bankruptcy and a short sell. Constance guided us to the road back to reestablishing healthy credit and home ownership once again. Now some years later after reading 'Keeping Score' and taking her program, we are on the clean up credit move again to purchase an investment property next! Who would think to not close an account because it could hurt you! I'm excited about the future and continued guidance from Constance."
~ V. Dixon
"After reading "Keeping Score" and taking one of Contances programs, I decided to double check my credit report to make sure accounts listed were all correct. In doing so, I found 2 old accounts that were still listed as "negative" marks that had actually been paid in full years prior. I followed the tips 1 by 1... I sent letters to the creditors stating the error, I increased my main credit card limit so that my debt would drop lower than 30% and I also requested for the bureaus to remove old addresses.
About 2 months later, I received letters from all 3 bureaus advising they had removed the old debt. My credit score increased drastically! With the tools and knowledge that I have now, I'll be at 850 in no time!!"
~ N. Henry